FOGSTAND Gallery & Studio is a nonprofit art space and creative education centre.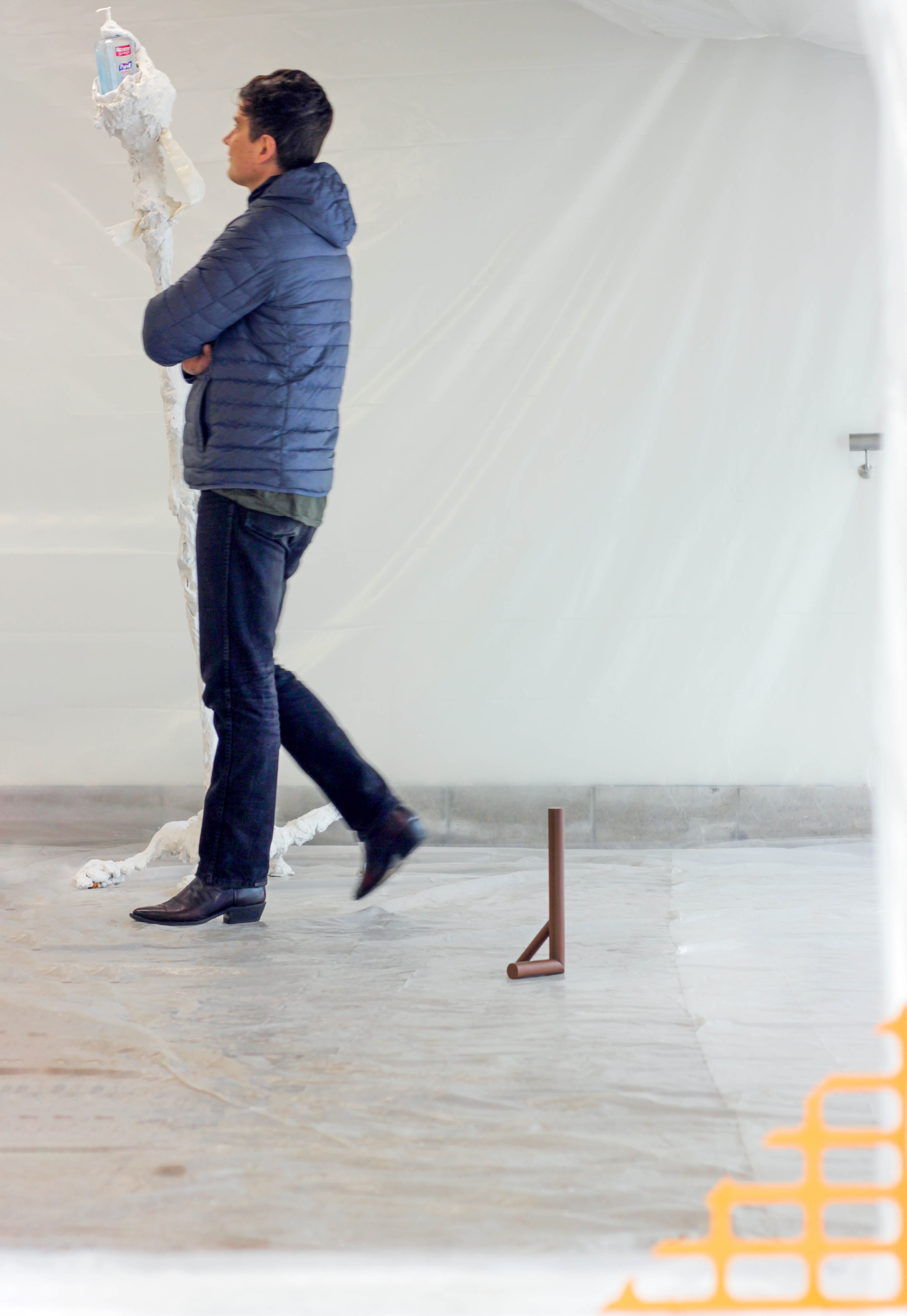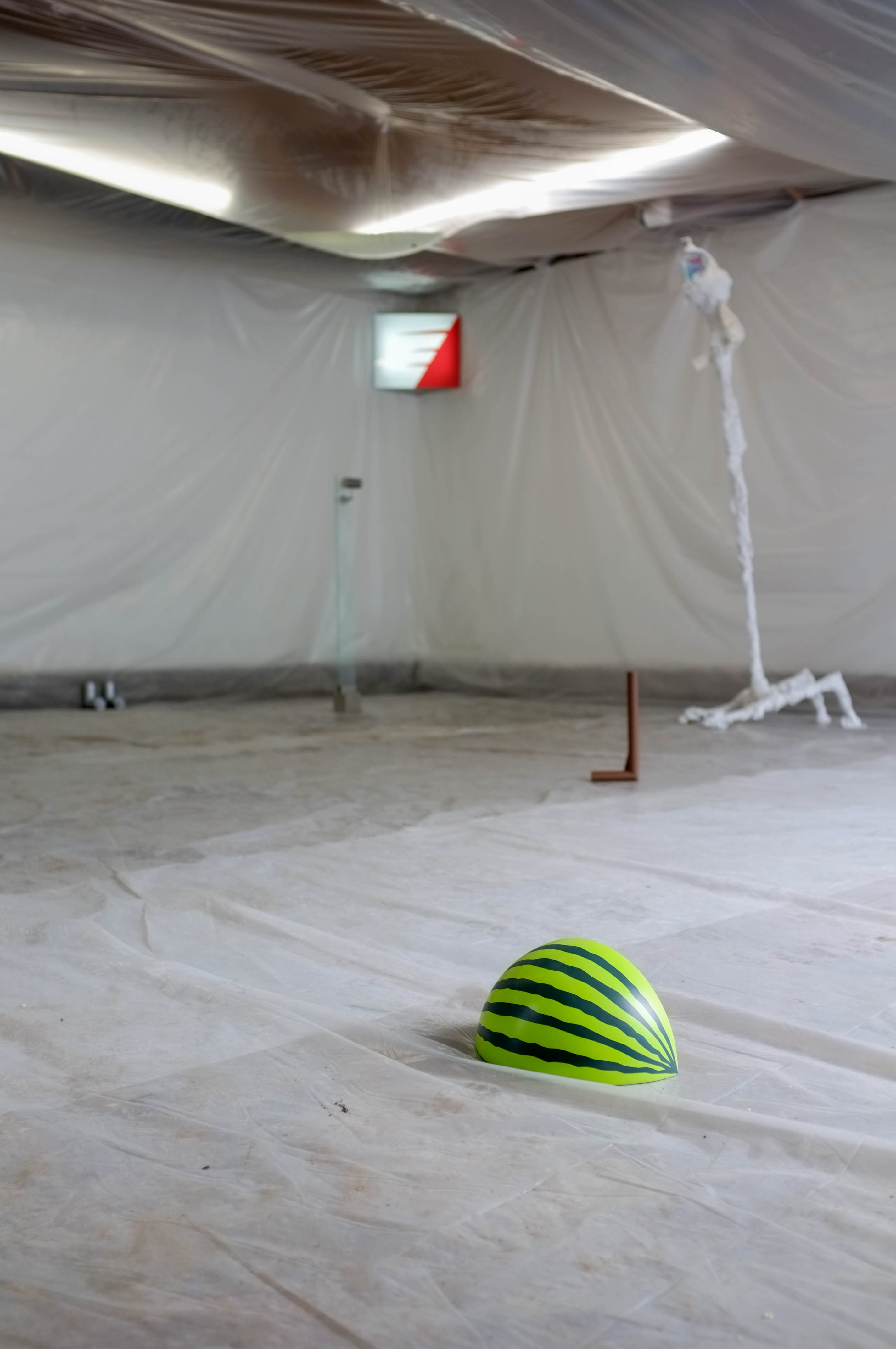 Exhibition on view: 05/04 - 05/31/2019
Opening : 05/04/2019, 1-5pm
Venue: FOGSTAND @ St. Paul, MN, USA
Joe Smith
could be said to literally culture objects from otherwise dislocated materials. From soaked blankets that seem to be teeming with a threatening materiality, to particulates carried in the air (air fresheners), Joe Smith continues the legacy of material innovation through its criticism. In the present, this is demonstrated by a confounding juxtaposition of Giacometti-esque figures, bejeweled by industrially designed sanitation products. The result, to me, seems to demonstrate a material contradiction that is only justified by a cultural literacy of what is "raw", "infectious" and "clean", already inscribed onto a then reduced materiality. The double contradiction in this particular exhibition, is the environmental tension of the exhibition space itself becoming a material (the garage gaining a further garage-ness due to aspects of leakiness and/or the often improvisational nature of repair in domestic settings).
Kaifeng Chun
(曾凱豐) reflects, or maybe refracts, a single city's ongoing relationship with its material accumulation, integration and disintegration. An almost amnestic relationship communicated on several walks through the city of Singapore, where Kaifeng pointed out massive reductions of material components of buildings into micro-monuments. For example, grates on a window removed from an apartment building, demolished and re-installed onto the entry facade of a new shopping center (with a plaque to highlight the historical significance). In the place of the oppositional is the purely situational, a mode Kaifeng has come to embody by way of making artworks solely for the corners of exhibition spaces (often overlooked) or accepting the muteness of a heavily compressed sculptural references (meal tray racks, trash bins or hand railing systems). The point is in the environmental factors forcing a material or object into a reduced truce of an existence.
FOGSTAND is happy to announce their first exhibition of 2019, Partial Objects, an exhibition that can be characterized as a double dissolution, one being of the object and the other of the subject. The selected artists—Joe Smith (U.S.A.) and Kaifeng Chun (Singapore)—embody, rather differently, methods that reject, rejoin and rejoice in derived/revived concepts of materiality.

The result is an exhibition occupied by an overtly scrubbed aesthetic, yet pressured by a mounting environmental tension within the exhibition space. With every object, material outcome, tool used, re-used and, hesitantly, used up, we find materiality by way of its conversion from Matter ⇨ Material ⇨ Material "Culture". Finally, these materials are reduced even further in the exhibition due to the seemingly oppositional stances Joe Smith (septic) and Kaifeng Chun (antiseptic) take in their material reductions.

Be it the readymade object of hand sanitizers (or wet-wipes), cradled by the fluid slop of now static plaster, or the Artschwagerian exactitude of everyday consumables (and their leftovers), both force a culture onto an otherwise resistant materiality. It doesn't matter if the intentions deployed are counter or complementary, as both already overlay an anthropocentric frame onto what is confused as a material's "materiality", or in Kaifeng Chun's case, lack thereof: an almost phobic conflict in the discourse toward materiality in artistic production. Each answer, and in answering, particulate not only their material relations, but future orientations onto sensorial relation, itself.