FOGSTAND Gallery & Studio is a nonprofit art space and creative education centre.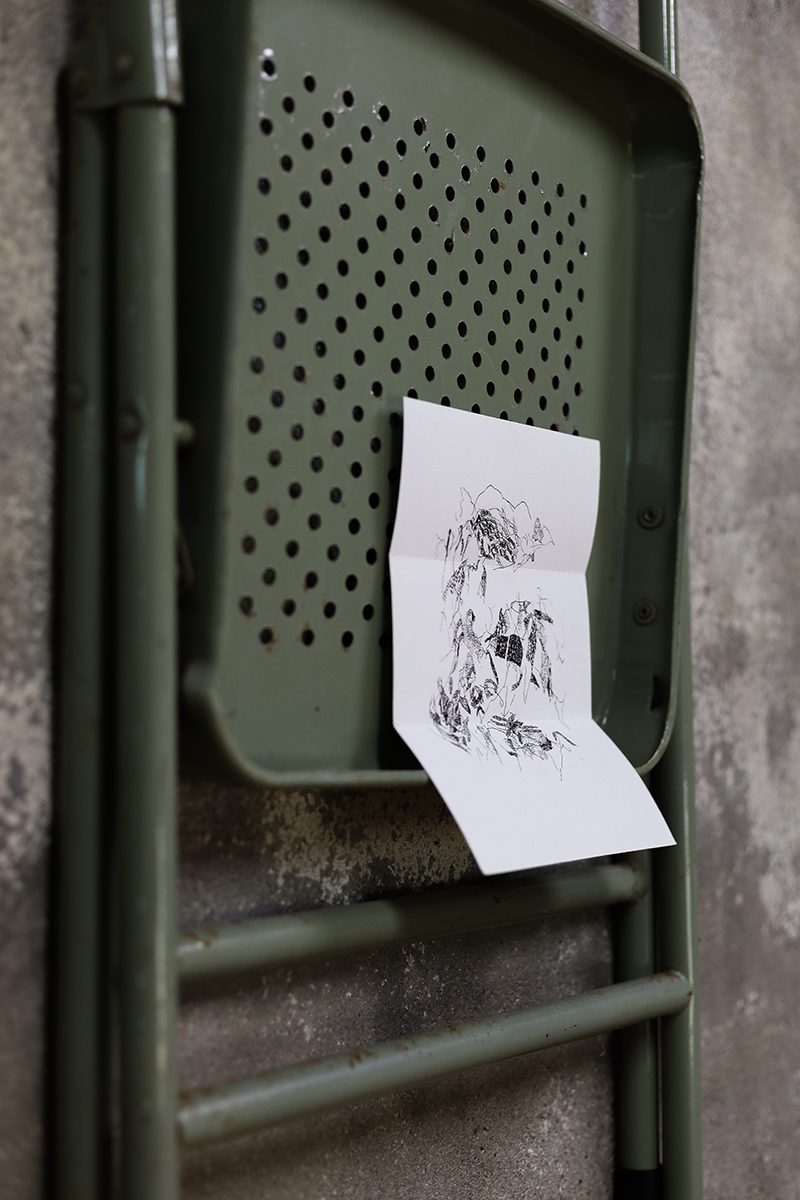 Exhibition on view: 1/18 - 5/19/2020
Opening: 1/18/2019, 1-5pm
Venue: FOGSTAND @Hualien, Taiwan
Phototaxis
CHIU Chen-Hung
CHIU Chen-Hung
(b.1983), Taiwan. Curently lives and works in Hualien. In 2008, he completed the graduate program in plastic arts at National Taiwan University of Arts. His works are primarily presented in the framework of installation and sculpture. Like conducting an archeological expedition, he is especially proficient in excavating remaining outlines and imprints from bygone time and space. Through his practice of abstraction and reinterpreting both designed and rationalized logics, he vividly reshapes these existed objects and thus develop a vast memory restoration.
Chiu's notable solo exhibitions include Phototaxis at Kunstlerhaus Bethanien (Berlin, 2019), The Dust of Time at YIRI ARTS (Taipei, 2017), and A Deer of Nine Colors at Kuandu Museum of Fine Arts (Taipei, 2015). Group exhibitions include Asian Art Biennial-The Strangers from beyond the Mountain and the Sea, National Taiwan Museum of Fine Arts(Taichung, 2019), Island Tales: Taiwan and Australia, Taipei Fine Arts Museum (Taipei,2019), The Hidden South at DaWu Waterfront Park (Taitung, 2018), Shattered Sanctity at Museum of Contemporary Art (Taipei, 2017), Taiwan Biennial: The Possibility of an Island at National Taiwan Museum of Fine Arts (Taichung, 2016), Greater Taipei Biennial of Contemporary Arts: De-coincidence at National Taiwan University of Arts (Taipei, 2016), Rencontres Internationales at La Gaîté lyrique, France, Haus der Kulturen der Welt Berlin, and Reina Sofia National Museum (Madrid, 2015), Liverpool Biennial at LJMU Copperas Hills (Liverpool, 2012), THAITAI: A measure of Understanding (Bangkok Art and Culture Centre, 2012). in 2019, residence at Kunstlerhaus Bethanien, Berlin/Germany. in 2012, residence at Cite internationale des arts Paris.
Video Link #1
—
The Marble Workers
Video Link #2
—
Kwan Yi
Video links proived by CHIU Chen-Hung
Wasps come when I ask for pigeons

Galilee Peaches
Galilee Peaches
is an interdisciplinary artist that studies touch and the gestures found within the home to learn how we build and shape intimate space.
Galilee received her BFA in Studio Art with a drawing concentration from the University of Wisconsin-Stout in 2018.
Currently she lives and works in Minneapolis, MN.
The title of the exhibition is from the poem "I Cry Love! Love!" by Theodore Roethke.
---
On-Site PR
FOGSTAND Gallery & Studio is excited to announce that we present our first duo solo exhibition in 2020 at our venue in Hualien, Taiwan.
Phototaxis
is presented by CHIU Chen-Hung, Wasps come when I ask for pigeons is presented by Galilee Peaches. They are exhibited on-site next to each other, including video installation, sculpture, painting, drawing, photography, hand made book.
The idea of phototaxis is inspired by the term from praxeology that defines how creatures intend to stay away or get close to the light. CHIU tries to utilize how light affects living creature's behavior to expose shadow and trace being left alone and fade away in our daily life metonymically with interpretations of video installation and sculpture.
He tries to reinterpret the subjectivity and the sensory awareness of construction materials from different spaces. By getting cross and going through back and forth in different spaces with a specific context, put together a fantasy journey mixed with layers of memories and realities.
His sculpture work
"The Plant"
is to retrace the window scene shown in the sci-fi movie by making embossed marks on the wood of construction that mimics how light and shadow changes in the movie scene. By repositioning this piece of work at different spaces along with movie voiceover to create the path between bionics and duplication, uncertainty, and rationalities.
The video work
"The Marble Workers"
is a visual narrative film composed of a refurnished work cart for moving marble stones with gold leaf and unemployed marble workers walked in the enormous abandon marble factory/different spaces with it. You can see the reflection of object and mechanic tools on the surface of the moving cart from time to time. It seems like a dreamy sleepwalk without purpose and destination back and forth to show the contrast and nostalgia of the past and the present of marble industrial development in Hualien.
The video work
'Kwan Yi'
is another series of work that tries to discuss the history of mining in Hualien. In the video, the close-up shot of Kwan Yi stone sculpture carved by workers mixed with the shots of bugs and plants in between to be juxtaposed with a comparison of organic and inorganic, living and non-living. From the other side of looking at this kind of juxtaposition, it could be shown as a short life response to the spirit of everlasting possibly.
His intention of positioning those video works and sculptures in the space is to rediscover and explore artificial materials being created regionally by relocating and reviewing from different distances with the trace of light. Under different interpretations, it may create a sense of familiarity or alienation.
In the other solo exhibition,
Wasps come when I ask for pigeons,
a series of ink drawings are sent as letters, honoring the form's ability to express devotion.
Unfolded and mailed they are displayed informally and exposed to the humidity. In two paintings, oil is set into light pink cotton, showing vibrant and warm environments that are reminiscent of the sensation of being touched by others and by the light.
She creates artifacts in clay and paper that recall ancient functional objects and photographs her work within her home and studio as a contribution to the it's growing memory.
The work is allowed to breathe and age in its new environment.
︎︎︎
漢